This evening I had dinner at Gyro King, a Turkish restaurant in SF's Civic Center Area with Keaton. One of our favorite things to order there is the Sütlaç, or Turkish rice pudding.
It goes from this:
To this in no time!
Then all of a sudden, all of my rice-based desserts came to mind. I love rice. While I try not to eat it ALL the time, I do feel a sense of comfort when I eat it. Take a look at the awesome Filipino desserts I had in the Philippines.
I have grown up eating rice desserts also known as kakanin. So many Filipino desserts are made with rice from polvoron with pinipig (toasted rice), suman (glutinous sweet rice steamed in banana leaves), biko (above - sweet rice cooked in coconut milk and topped with coconut milk crumbs called latik. BTW: Inang and my friend Jun Belen make AWESOME biko). Here are just a few of my favorites…
THEN I thought of champorado. It is a Filipino chocolate rice porridge often served at breakfast with dried salted fish.  I know, it sounds incredibly weird, but it works.  I love topping it with sweetened condensed milk.  The one pictured above was made by my friend Mr. Arroz Caldo at Off the Grid.
THEN I thought of the champorado cake that Chef Lisal Moran at Attic Restaurant made. It is now on the restaurant's dessert menu and it is absolutely awesome. It wasn't too sweet, but the vanilla foam on top lent the perfect amount of sugar. I love how the flavors of this Filipino favorite are still present, but the look of it is so modern and gorgeous. Here is a peak at the rest of Attic Restaurant's dessert menu on SF Station's YUM Blog.
THEN I thought of bibingka. It is a cake made with rice flour and is typically eaten during the Christmas season. Honestly, I like eating it all-year. It's buttery and I enjoy the char it has on the bottom from it (traditionally) cooking over a fire.
This one was from Alido's in SSF. The texture is spongy and tender. I adore the addition of white cheese. You can find bibingka even topped with coconut and salted egg. I know it sounds weird (again), but it totally works! The last two times Keat and I went to Alido's, we have left with a bibingka (or two) and ate them in car. Total baboy status.
Photo Provided by Mike Carrion
THEN I thought of bibingka souffle at Intramuros Restaurant. Like Lisal's chaporado cake at Attic, this is a modern take on Filipino flavors. I adore eating the airy, eggy, souffle with the queso puti (white cheese) and salted egg. Ohhh, the coconut creme anglais is awesome when poured right in the center of it. YUM!
THEN I thought of kutsinta (orange circles) and puto (white cupcake-looking things). I can eat to many of these in one sitting. You can find these at almost ALL Filipino parties. They are not too sweet, but they have lovely textures. The puto are made by steaming them, so they have a light feeling in the mouth. The kutsinta are sticky and fun. Roll them in grated coconut and you are set!
Want to sample some rice cakes? It's perfect because it's almost Christmas! Now you have a chance! Join me on December 16th at Intramuros Restaurant for a special Noche Buena dinner prepared by Chef Cocoy Ventura. I looked at the menu and while he is keeping dessert a little vague, it did mention "Native Sweets and Rice Cakes." Yup, like I said, here is your chance!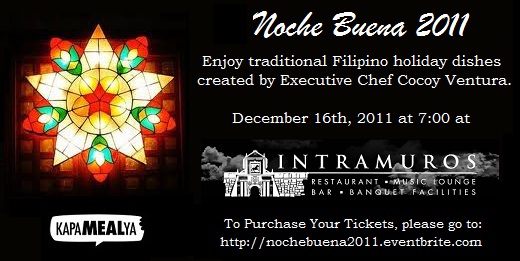 http://nochebuena2011.eventbrite.com/
I love rice cakes. I hope this post made you hungry and I hope you all can make it to my dinner!
xoxo,
Jo